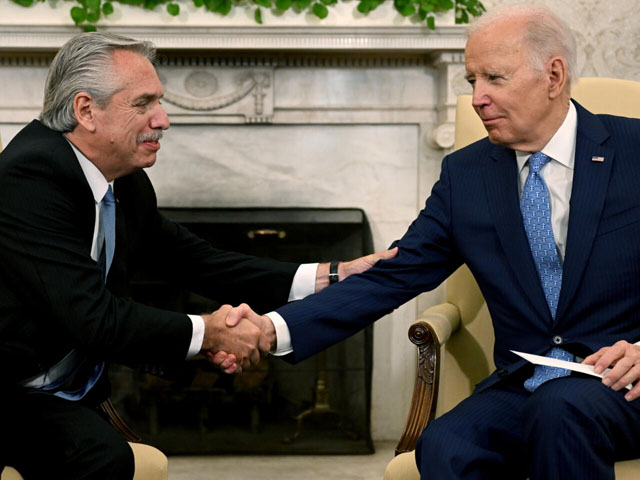 WASHINGTON, March 30 (NNN-AGENCIES) — US President Joe Biden hailed an "enormous opportunity" to increase economic integration with Argentina as he hosted on Wednesday the South American country's President Alberto Fernandez at the White House.
"This meeting is a chance to reaffirm that nothing is beyond our reach if we work together," Biden said seated next to his counterpart in the Oval Office.
The two countries are embarking "on the next century of our partnership" after 200 years of diplomatic relations, he added, citing an "enormous opportunity to increase our economic integration."
Biden recalled that he should have received Fernandez last summer, but had to cancel after contracting Covid.
The Argentine leader thanked his host for US support in the relationship between Buenos Aires and international economic organizations. The International Monetary Fund recently announced a new deal with Argentina that paved the way for the disbursement of some $5.3 billion.
Fernandez also stressed his country's willingness to cooperate with the United States in the fight against climate change, saying that Argentina was facing the worst drought in its history.
He told reporters afterward he was "satisfied" with his White House visit and "convinced that the doors have been opened for strategic and cooperative work with the United States."
Biden appeared eager to pamper the relationship with a friendly South American nation at a time when Beijing is seeking to extend its influence in Latin America.
Fernandez said the issue of China did not come up in his meeting with Biden, but he did not specify whether it was a subject of discussion in the broader talks between the Argentine delegation and the US team. — NNN-AGENCIES