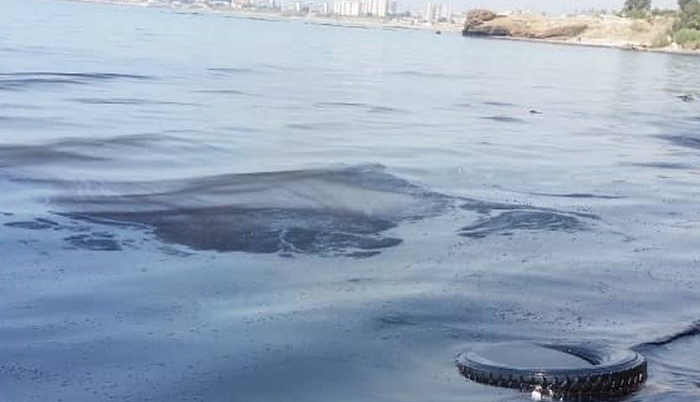 An oil slick on the Syrian coast
 NICOSIA, Sept 2 (NNN-AGENCIES) — Authorities in Cyprus are monitoring an oil slick that originated from a power plant on Syria's Mediterranean coast and could soon affect the island.
Syrian state media said last week there had been a spill from the plant, which is inside the Baniyas oil refinery.
Satellite imagery showed that the slick spread north along the Syrian coast before moving westwards towards Cyprus.
Modelling suggests that it will reach the Karpas Peninsula in the Turkish-controlled north on Tuesday.
The north's prime minister said it was taking all necessary measures to prevent the slick causing damage and was receiving assistance from Turkey.
The Cypriot government said it was ready to provide help if requested.
Syria's government said last Tuesday that there had been an accidental leak from a fuel tank at the Baniyas thermal power station, which is in a part of the war-torn country under its control.
The following day, Syria's state-run Sana news agency reported that the slick had reached the town of Jableh, about 20km to the north.
Teams had begun cleaning up the oil from rocky areas of the coast, applying sand to soak up the fuel as well as machines using suction, it said.
Imagery from Europe's Sentinel-1 satellite meanwhile showed the slick had spread further along the coast, almost reaching the city of Latakia, and covered almost 150 sq km of sea.
Syrian officials downplayed the scale of the spill as the clean-up continued over the weekend, with the head of the General Directorate of Syrian Ports telling state TV that the quantity of fuel that leaked "was not large".
The Cypriot government issued a warning about the slick on Monday in response to new satellite imagery showing that it had grown in size and was close to Cape Apostolos Andreas.
The cape is the north-eastern most point of the Karpas Peninsula, which is in the self-declared Turkish Republic of Northern Cyprus (TRNC) and is about 130km from Baniyas.
The Cypriot fisheries and marine research department said the slick appeared to be "oil sheen" rather than crude oil, and that computer modelling and meteorological data suggested it would affect the cape within 24 hours.
Steps had been taken to inform authorities in the north and the government was "ready to respond and provide assistance if requested", it added.
The TRNC's Prime Minister, Ersan Saner, said the spill's progress was being followed closely by his office and all relevant ministries and organisations in co-operation with Turkey, which is the only country to recognise the north as an independent state.
"No-one should doubt that whatever is necessary will be done to prevent our country from being harmed by this spill," Saner added.
Turkey's Vice-President, Fuat Oktay, said it was "mobilising every means available that we have without giving any chance to the spill to turn into an environmental disaster", and that it hoped to control the slick in the open sea before it reached the coast of Cyprus. — NNN-AGENCIES