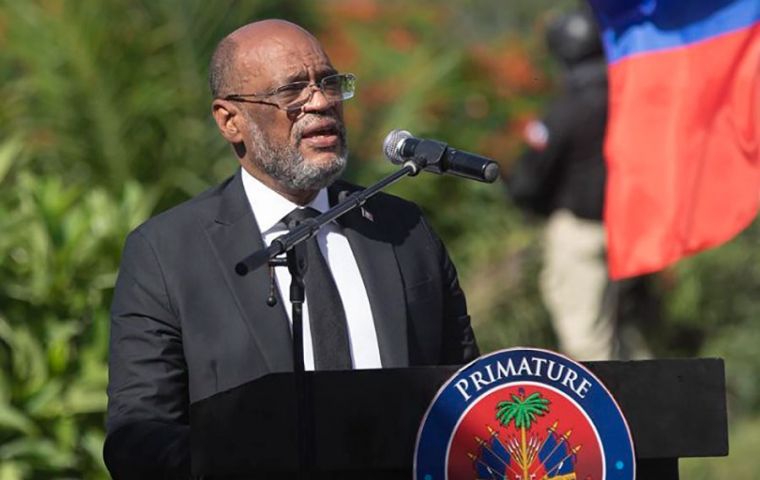 PORT-AU-PRINCE, Sept 19 (NNN-MERCOPRESS) — Scores of Haitians demanded the resignation of Prime Minister Ariel Henry following Dominican President Luis Abinader's decision to close all borders between the only two countries sharing the Caribbean island of Hispaniola, it was reported in Port-au-Prince.
"The objective of the march is to demand the departure of Ariel Henry. He is incapable. Ariel never says anything about those displaced by the war who live in difficult conditions in the streets and in schools," a demonstrator was quoted as saying by EFE.
Hundreds of protesters sought Henry's departure from office due to his mismanagement of the country's socio-political and economic crisis, which only gets worse for the people amid a diplomatic conflict with the Dominican Republic over the use of the waters of the Massacre River.
The demonstration was called a few days ago by the new political party Engages pour le Developpement (EDE), led by former Prime Minister Claude Joseph, a fierce opponent of the incumbent government since he was ousted.
During the protests in front of Henry's residence, the demonstrators also denounced the racism Haitians in the Dominican Republic have endured recently. They also criticized Abinader's measure to force Haiti to abandon the construction of an irrigation canal on the Massacre River in the northeast of the country.
The demonstrators showed their unconditional support to the farmers of Ouanaminthe (Juana Mendez), whom they encouraged to continue with the construction of the canal, which will irrigate more than 3,000 hectares of land.
The border blockade also means the suspension of the binational market held in the Dominican municipality of Dajabón on Mondays and Fridays, with the consequent economic damage to traders and producers in the area and the shortage of supplies on the Haitian side of the border.
Thousands of Haitians are leaving the Dominican Republic in long lines with their few belongings on their backs during the two opening times at the border since Friday, one at noon and the other at 4:00 pm.
Abinader also ordered the suspension of the issuance of visas and the banning from entry to nine Haitian citizens, including Camiel Samson, who has been singled out as the one who "sponsored" the controversial canal.
Haiti insists it has the right to do with the Massacre River as it sees fit to capitalize on its natural resources just like the Dominican Republic has the "full right to carry out captures (water intakes) there, per the (bilateral) agreement of 1929." — NNN-MERCOPRESS