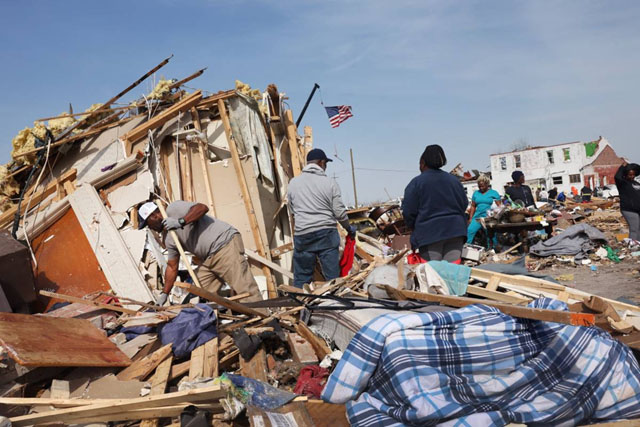 WASHINGTON, March 30 (NNN-AGENCIES) — US President Joe Biden and First Lady Jill Biden will visit Rolling Fork, Mississippi on Friday, a week after it was devastated by a tornado that ripped through the southern state, killing at least 25 people.
"The President and the First Lady will visit with first responders, state and local officials, and communities impacted by the devastation from recent storms, survey recovery efforts, and reaffirm their commitment to supporting the people of Mississippi as long as it takes," the White House said in a statement.
The weather system, mixed with thunderstorms and driving rain, left a trail of havoc across the southern state late Friday, slamming several towns.
The National Weather Service gave the tornado a rating of four out of five on the Enhanced Fujita scale, with ferocious winds of up to 320 kilometers per hour.
In a matter of seconds, Rolling Fork — a town of about 2,000 people — saw homes shredded, buildings flattened and cars smashed.
A Red Cross official described Rolling Fork on Sunday as being "like a war zone."
"It looks like a bomb went off," said John Brown, whose organization has set up an aid center in the town.
Biden on Sunday approved a federal disaster declaration for Mississippi, freeing up aid to help the state recover.
Officials, including Secretary of Homeland Security Alejandro Mayorkas, gathered in the leveled town on Sunday afternoon, praising rescue efforts and pledging support "for the long haul."
"It is heartbreaking to hear of the loss of life, to see the devastation firsthand," Mayorkas told a press conference held with Governor Tate Reeves and Federal Emergency Management Agency (FEMA) head, Deanne Criswell.
Reeves, a Republican, thanked Biden on Twitter "for recognizing the scale of the damage in Mississippi and quickly approving our disaster declaration — a critical step in disaster response."
The severe weather also left a man dead in Alabama when he was trapped under an overturned trailer, as well as injuring dozens more in Mississippi, officials said.
Tornadoes, a weather phenomenon notoriously difficult to predict, are relatively common in the United States, especially in the central and southern parts of the country.
The trip to Mississippi on Friday will be only two days after Jill Biden flew to Nashville, in the neighboring state of Tennessee, where she attended a vigil for the three children and three adult staff killed in a recent school shooting. — NNN-AGENCIES