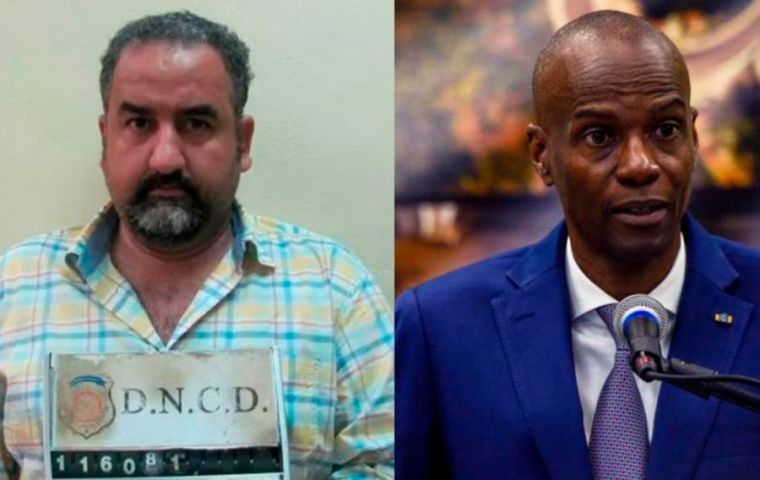 MIAMI (Florida, US), June 6 (NNN-MERCOPRESS) — Haitian-Chilean businessman Rodolphe Jaar was sentenced to life in prison by a Miami court for his role in the July 7, 2021, murder of President Jovenel Moïse in Port au Prince when a group of armed men – mostly Colombian mercenaries – stormed his home.
Jaar pleaded guilty to conspiracy to commit murder or kidnapping outside of the US, as well as to providing material support resulting in death. Prosecutors had said that Jaar was "responsible for providing weapons to … co-conspirators to facilitate carrying out the operation" that resulted in Moïse's assassination.
Prosecutors for the US justice department, as well as officials in Haiti, have been pursuing accountability in Moïse's murder. Dozens of people have been detained in connection to the assassination in Haiti, while the US has arrested and charged 11 suspects for their alleged roles in the planned "coup d'etat".
Meanwhile, former Haitian Prime Minister Laurent Lamothe has been banned from entering the United States for his "involvement in significant corruption," Secretary of State Antony Blinken said.
"Lamothe misappropriated at least US$ 60m from the Haitian government's PetroCaribe infrastructure investment and social welfare fund for private gain," Blinken argued.
"Through this corrupt act and his direct involvement in the management of the fund, he exploited his role as a public official and contributed to the current instability in Haiti," he added. — NNN-MERCOPRESS