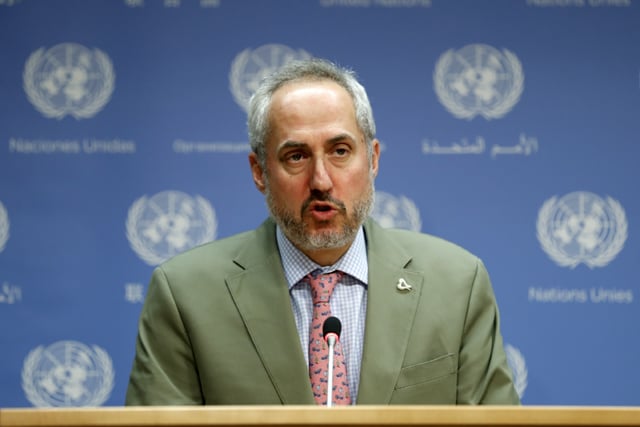 UNITED NATIONS, May 27 (NNN-XINHUA) — The world body continues to push for Russian food and fertilizer exports as a parallel agreement with the Black Sea Grain Initiative, which allows Ukrainian agricultural exports from Black Sea ports, said a UN spokesman.
UN Conference on Trade and Development chief Rebeca Grynspan and her team are continuing to "work full steam" ahead to ensure the full implementation of the memorandum of understanding on Russian food and fertilizer exports, said Stephane Dujarric, spokesman for UN Secretary-General Antonio Guterres.
The UN side is working with the African Export-Import Bank to design a trade finance platform to enable efficient transactions between Russian exporters of food and fertilizers and African buyers, he said.
The Russian Foreign Ministry said in a statement on Thursday that if Rosselkhozbank is not connected to SWIFT and there is no progress on the implementation of other systemic problems that are blocking Russian agricultural exports, the Black Sea Grain Initiative will also have to look for alternatives.
"It is clear that the re-inclusion of the Russian banks involved in the trade in fertilizer and food, which are not under sanctions, would facilitate the implementation. But as you well know, that's not a decision that is within the UN's own wheelhouse," said the UN spokesman.
"We're trying to push things forward on different tracks, all with the same aim of getting as much food and fertilizer to those who desperately need it," he explained.
The Black Sea Grain Initiative was signed separately by Russia and Ukraine in Istanbul with T?rkiye and the United Nations on July 22, 2022. The deal, initially in effect for 120 days, was extended in mid-November 2022 for another 120 days till March 18, 2023. At that point, Russia only agreed to extend the deal for 60 days, till May 18, 2023. On May 17, Russia agreed to extend the deal for another 60 days.
As a parallel agreement, Russia and the United Nations signed a memorandum of understanding on the facilitation of Russian food and fertilizer exports. — NNN-AGENCIES