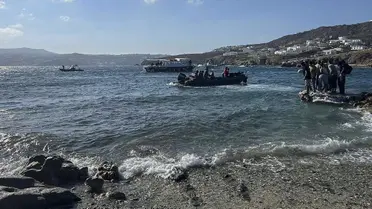 ATHENS, May 26 (NNN-AGENCIES) — Three migrants were found dead off the Greek island of Mykonos on Friday after their boat capsized and up to 12 others missing, the Greek coastguard said.
The nationality of the victims, according to preliminary reports two women and a man, has not been confirmed by Greek authorities.
The coastguard is searching by ground, air and sea for up to others whom survivors said were missing after the boat overturned.
Witnesses said up to 17 people had been on the same boat, including five women and a seven-year-old child. Two men, a Palestinian and a Syrian, were rescued by the coastguard.
For several months, migrants have sought to reach Italy from Turkey through Greece's southeast Cyclades islands which attract thousands of visitors each summer.
Non-profit groups say the new route is designed to avoid the northern Aegean Sea, where witnesses accuse Greek authorities of stepping up illegal pushbacks, accusations that Athens has long rejected.
Footage published by The New York Times on May 19 reportedly showed the forceful expulsion of a group of migrants, including a baby, being bundled into a van and then transferred to an inflatable raft and set adrift.
Former prime minister Kyriakos Mitsotakis said his government would investigate the incident and called such pushbacks "completely unacceptable". — NNN-AGENCIES