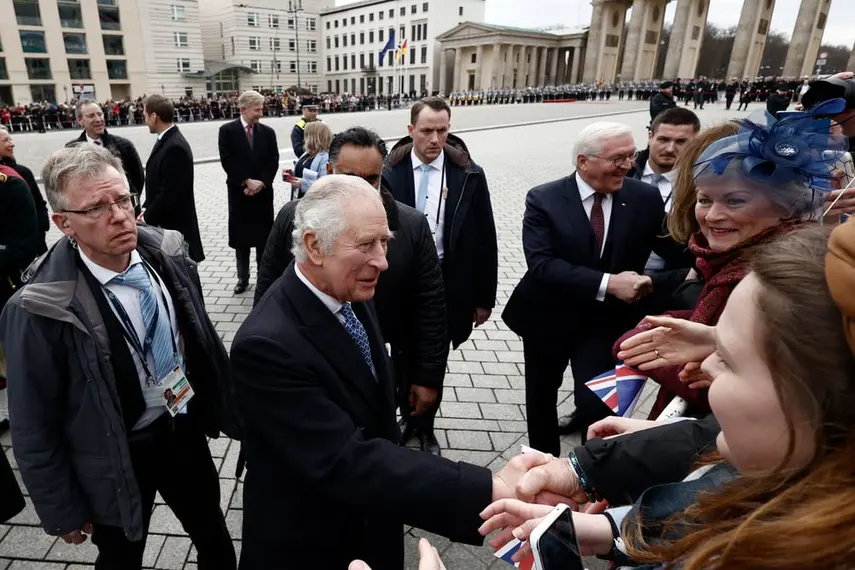 BERLIN, March 30 (NNN-AGENCIES) — Britain's Charles III began his first state visit as king on Wednesday, arriving in Germany for a trip billed as "an important European gesture" to maintain strong ties after Brexit.
"Today, on the day six years ago when Britain began its exit from the European Union, we are opening a new chapter in our relations," said German President Frank-Walter Steinmeier in a speech welcoming Charles and Queen Consort Camilla.
That Charles had picked Germany for his inaugural foreign trip as monarch was a "great gesture, and an important sign for German-British relations", added Steinmeier.
Earlier, Charles and Camilla had, via a message on Twitter, underlined their "great joy to be able to continue the deepening of the longstanding friendship between our two nations".
Germany rolled out the pomp in their welcome of the royal visitors, greeting them at Berlin-Brandenburg airport with a 21-gun salute while two military jets made a flypast as they watched from the top of the plane stairs.
The British Union Jack was flapping alongside the German and European Union flags along Berlin's central Unter den Linden avenue, which leads to the Brandenburg Gate, where crowds of well-wishers waited for hours to catch a glimpse of the dignitaries.
Steinmeier and German first lady Elke Buedenbender met the royal couple with military honours at the landmark, the first time it has provided a backdrop for receiving a state guest.
During his three-day visit, Charles will also become the first monarch to address the German parliament, with a speech on Thursday, before travelling to the port city of Hamburg on Friday.
Charles has been a regular visitor to Germany, with the British embassy in Berlin saying that he has been to the country 40 times.
"We will always be friends, partners and associates," the then-Prince of Wales told the Bundestag in 2020 switching between English and German.
Charles's command of German may be a nod to the British royal family's roots in Germany notably through Charles's great-great-great-grandfather Albert of Saxe-Coburg and Gotha, queen Victoria's husband.
Following Wednesday's welcome ceremony, Charles and his wife will travel to Steinmeier's Bellevue Palace for a state banquet where vegetarian options like spinach tarts will be served along other dishes like free-range chicken.
On Thursday, Charles will speak to Chancellor Olaf Scholz and meet refugees recently arrived from Ukraine.
Steinmeier and the royal couple will then visit a British-German military unit and an organic farm in the surrounding state of Brandenburg.
In Hamburg on Friday, the king, who has for decades pushed an environmental agenda, is due to tour a renewable energy project.
And in what Bild daily has described as a gesture of deep significance, Charles will in Hamburg commemorate victims of 1943 air raids over the city.
The bombings, codenamed Operation Gomorrah, were carried out by night by the British air force, and by day by US forces.
Charles was initially supposed to travel to France before heading to Germany, but his trip was postponed in the wake of violent pension reform protests.
The visit was intended to highlight warming Franco-British relations but will now have to wait for another date. — NNN-AGENCIES