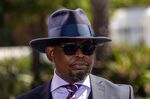 JOHANNESBURG, Sept 24 (NNN-NEWVISION) — South African prosecutors said they had dropped a case against Finance Minister Enoch Godongwana who had been accused of sexual assault.
Godongwana, who is in charge of Africa's most industrialised economy, had been accused of having inappropriately touched a masseuse at a luxury wildlife lodge last month.
He had denied the allegations, saying his wife was in the same room when he received the massage.
The National Prosecuting Authority (NPA) said in a statement that it had declined to prosecute the minister.
"The decision follows a thorough assessment of all available evidence and after consultations with the complainant, who expressly did not wish to proceed with the case," the NPA in northeastern Mpumalanga province said.
Godongwana was appointed to lead the finance ministry by President Cyril Ramaphosa last year. — NNN-NEWVISION